acquired May 28, 2013

download large image (2 MB, JPEG, 2646x1764)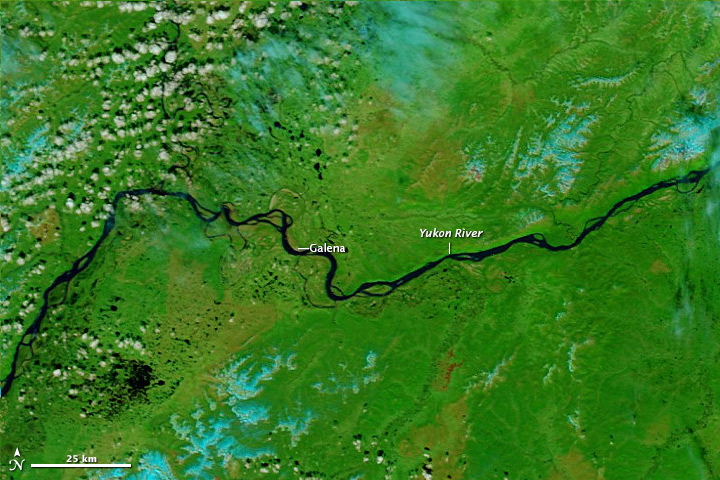 acquired May 27, 2012

download large image (2 MB, JPEG, 2646x1764)
In May 2013, a stubborn ice jam on the Yukon River sent floodwater spilling over the river's banks into the small Alaskan town of Galena. An ice jam is an accumulation of broken river ice ensnared by a narrow channel.
A sharp bend in the river about 18 miles (29 kilometers) downstream from Galena triggered the jam by preventing a large sheet of melting winter ice from flowing downstream. The blockage began on May 25, and ice and floodwater stretched more than 20 miles (32 kilometers) from the choke point by May 28. Galena residents saw waters surge more than 15 feet (5 meters) in the span of one night.
Viewed from above, the flood transformed the landscape. The Moderate Resolution Imaging Spectroradiometer (MODIS) on NASA's Terra satellite captured the top image on May 28, 2013. The lower image shows the condition of the river one year earlier. Both images use a combination of visible and infrared light that make it easier to distinguish between water and land. River water appears navy blue; ice appears teal; and vegetation is bright green. Clouds are pale blue-green and cast shadows.
Ice backups and flooding are common on the Yukon River (particularly near Bishop Rock), though not usually this severe. Ice jams can occur at any time of the year—including the fall and even in the middle of winter, if there is a warm spell—but they are especially common in the spring when warming temperatures cause rivers to shed their ice. In 2009, an ice jam caused severe flooding on the Yukon River in March.
Most of the town's 400 residents had evacuated by May 28, according to media reports. During the worst of the flooding, the town lost both water and electricity. Most of the structures in the town saw significant flooding; many were swamped by as much as 7 feet (2 meters) of water. There is concern that communities downriver of Galena will also face major flooding when the ice jam breaks up.
References

Alaska Dispatch (2013, May 28) Rescue aircraft evacuating more Galena residents as flooding worsens. Accessed May 29, 2013.
Alaska Public Media (2013, May 26) Galena Prepares for Flooding as Yukon River Ice Remains Jammed. Accessed May 29, 2013.
Anchorage Daily News (2013, May 29) Almost everyone has left flooded Yukon village as ice dam holds. Accessed May 29, 2013.
Beltaos, S. (2008, January) Progress in the study and management of river ice jams. Cold Regions Science and Technology, 51 (1), 2-19.
CIMSS (2013, May 20) Flooding along the Yukon River in Alaska. Accessed May 29, 2013.
KTVA (2013, May 29) Galena Flooding: 'The Water Came So Fast.' Accessed May 29, 2013.
NOAA Alaska-Pacific River Forecast Center (2013, May 28) Hydrologic Outlook: May 28, 2013. Accessed May 29, 2013.
Instrument:

Terra - MODIS
NASA: US - Alaska - Ice Jam on the Yukon River Floods Galena - 30.05.13
Para:
comunicarse conmigo,
enviar materiales para publicar,
propuestas comerciales:
marcenaroescultor@gmail.com

For:
contact me,
submit materials for publication,
commercial proposals:
marcenaroescultor@gmail.com

My blogs are an open house to all cultures, religions and countries. Be a follower if you like it, with this action you are building a new culture of tolerance, open mind and heart for peace, love and human respect. Thanks :)

Mis blogs son una casa abierta a todas las culturas, religiones y países. Se un seguidor si quieres, con esta acción usted está construyendo una nueva cultura de la tolerancia, la mente y el corazón abiertos para la paz, el amor y el respeto humano. Gracias:)