Click the images to enlarge it
acquired August 27, 1984

download large image (15 MB, JPEG, 9300x6200)
acquired August 22, 2011

download large image (14 MB, JPEG, 9300x6200)
Our nation's capital is part of an urban area that crosses state lines. This expansive urban area has experienced substantial growth in the past few decades, but different municipalities have managed growth in different ways, as these images indicate.
The Thematic Mapper on the Landsat 5 satellite acquired the top image on August 27, 1984, and the bottom image on August 22, 2011. Forests and fields appear in shades of green, and urban areas appear in shades of beige and tan. The most noticeable growth occurs around Dulles International Airport, where beige has overtaken green in many places.
Dulles International Airport straddles the border between two of Virginia's fast-growing counties: Loudon in the Northwest, and Fairfax in the southeast. Between 2000 and 2010, the U.S. Census found, Fairfax County's population grew 11.5 percent. Loudon County's population grew 84.1 percent, making it the fastest-growing county in the state. South of the airport, bordering Loudon and Fairfax Counties, Prince William County experienced a population growth of 43.2 percent during the same time period.
To give an idea of the scale of development in this region, Tysons Corner was built on farmland in the 1960s. Located 13 miles (21 kilometers) from Washington, Tysons Corner was conceived as an "edge city" on the outskirts of town. Designed for an automobile-rich society intent on shopping, its malls boasted something like 167,000 parking spaces. Now the urban area has grown far past it, and developed areas extend beyond the airport.
West of Washington, and north of Tysons Corner, the Potomac River separates northern Virginia from Maryland. North of the river lies Maryland's Montgomery County. Around the time that developers built Tysons Corner, officials in Montgomery County also designed a community, but instead of cars and shopping malls, it was based on a concept known as "wedges and corridors."
A plan adopted in 1964 aimed to concentrate commercial and residential development along transportation corridors, and leave the wedges between these corridors open with undeveloped land. A 2002 report from the Joint Center for Housing Studies of Harvard University described Montgomery County's plan as "one of the most sophisticated systems of growth management in the United States." The different approach to growth management can be seen around Rockville, where urbanized areas did not expand so substantially between 1984 and 2011.
Although its growth did not match that of Loudon or Prince William Counties in Virginia, Montgomery County did experience growth comparable to that of Fairfax. Based on estimates from October 2009, Montgomery County's population grew 11.3 percent between 2000 and 2010, and it was Maryland's most populous county.
References

El Nasser, H. (2011, February 17) Northern Virginia counties are "the engines" of state's growth. USA Today. Accessed June 28, 2012.
Harrigan, L., von Hoffman, A. (2002, October 1) Forty years of fighting sprawl: Mongtomery County, Maryland, and growth control planning in the metropolitan region of Washington, DC. Joint Center for Housing Studies of Harvard University. Accessed June 28, 2012.
Landsat Program. (2012, June 19) Washington, DC. Goddard Space Flight Center. Accessed June 28, 2012.
Maryland at a Glance. (2011, September 8) Population. Accessed June 28, 2012.
National Public Radio. (2008, December 10) Northern Va. tries new model to battle sprawl. Accessed June 28, 2012.
Images courtesy the Landsat Program, Goddard Space Flight Center. Caption by Michon Scott.
Instrument:

Landsat 5 - TM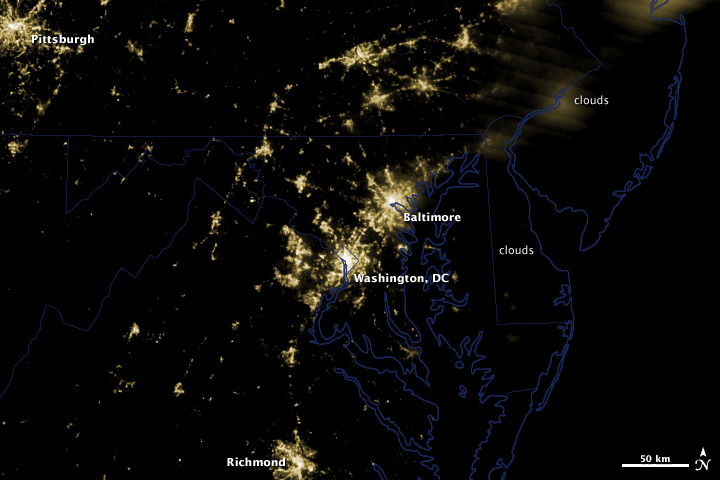 acquired June 30, 2012

download large image (442 KB, JPEG, 1972x1972)
acquired June 28, 2012

download large image (572 KB, JPEG, 1972x1972)
acquired June 28 - 30, 2012

download Google Earth file (KML)
These before and after images from NASA's Suomi National Polar-orbiting Partnership satellite show the power outages in the clear skies over Washington, DC and Baltimore that occurred as a result of a rare, fast-moving thunderstorm system on Friday, June 29th.
Extensive power outages in Washington, DC and Baltimore are visible in these images. Clouds obscure the lights of Philadelphia and other areas north and east of Baltimore. Of particular interest is the loss of light to the north and west of Washington, DC along the 270 and 66 interstate highways and Maryland route 267.
Known as a "derecho," the storm combined intense lightning and rain with hurricane-force winds that were upwards of 60 miles per hour (~96.5 kilometers per hour). It killed 22 people and caused some 4.3 million households to lose power for days.
Derecho is the Spanish word for straight and the storm raced from west of Chicago across Illinois, Indiana, Ohio, West Virginia, Virginia, Maryland, and Washington, D.C.
According to the National Weather Service, the gigantic windstorms of a derecho are as powerful as tornados, but the winds don't twist, instead driving in a straight line. To be classified as a derecho, the swath of wind damage must extend more than 240 miles and the storms are powered by hot, humid weather.
These images were taken with the day/night band of S-NPP's Visible Infrared Imaging Radiometer Suite (VIIRS). Suomi NPP was launched from Vandenberg Air Force Base on October 28th, 2011 and is the result of a partnership between NASA, the National Oceanic and Atmospheric Administration, and the Department of Defense.
NASA Earth Observatory image by Jesse Allen and Robert Simmon using data from the NASA/NOAA satellite S-NPP. Caption by Aries Keck.
Instrument:

Suomi NPP - VIIRS
NASA: US - Washington - Growth in Washington. District of Columbia - Power Outages in Washington. DC Area - July 2012



Ricardo M Marcenaro - Facebook

Operative blogs of The Solitary Dog:

solitary dog sculptor:
http://byricardomarcenaro.blogspot.com

Solitary Dog Sculptor I:
http://byricardomarcenaroi.blogspot.com

Para:
comunicarse conmigo,
enviar materiales para publicar,
propuestas:
marcenaroescultor@gmail.com

For:
contact me,
submit materials for publication,
proposals:
marcenaroescultor@gmail.com

Diario La Nación
Argentina
Cuenta Comentarista en el Foro:
Capiscum

My blogs are an open house to all cultures, religions and countries. Be a follower if you like it, with this action you are building a new culture of tolerance, open mind and heart for peace, love and human respect.

Thanks :)

Mis blogs son una casa abierta a todas las culturas, religiones y países. Se un seguidor si quieres, con esta acción usted está construyendo una nueva cultura de la tolerancia, la mente y el corazón abiertos para la paz, el amor y el respeto humano.

Gracias :)